FRAGRANCE STORIES
 The Arôme Atelier brand is a tribute to France and French speaking people, therefore we have embraced the language even in the names of all fragrances in the range.
 FRAIS
Our signature Fresh fragrance is your absolute escape to paradise. This stunning fragrance combines fresh bergamot, bright orange and rich amber with warming notes of exotic coconut,vanilla, and almond.
FLEUR
An extremely smooth floral fragrance based on peony flowers and freshly picked bouquet of roses in full bloom with nuances of geranium and violet, all wrapped in a gentle woody base.
Top Notes: Rose, Geranium, Bergamot
Heart Notes: Wisteria, Jasmin, Rose, Violet
Base Notes: Iris-wood
One of the best floral fragrances you have ever experienced.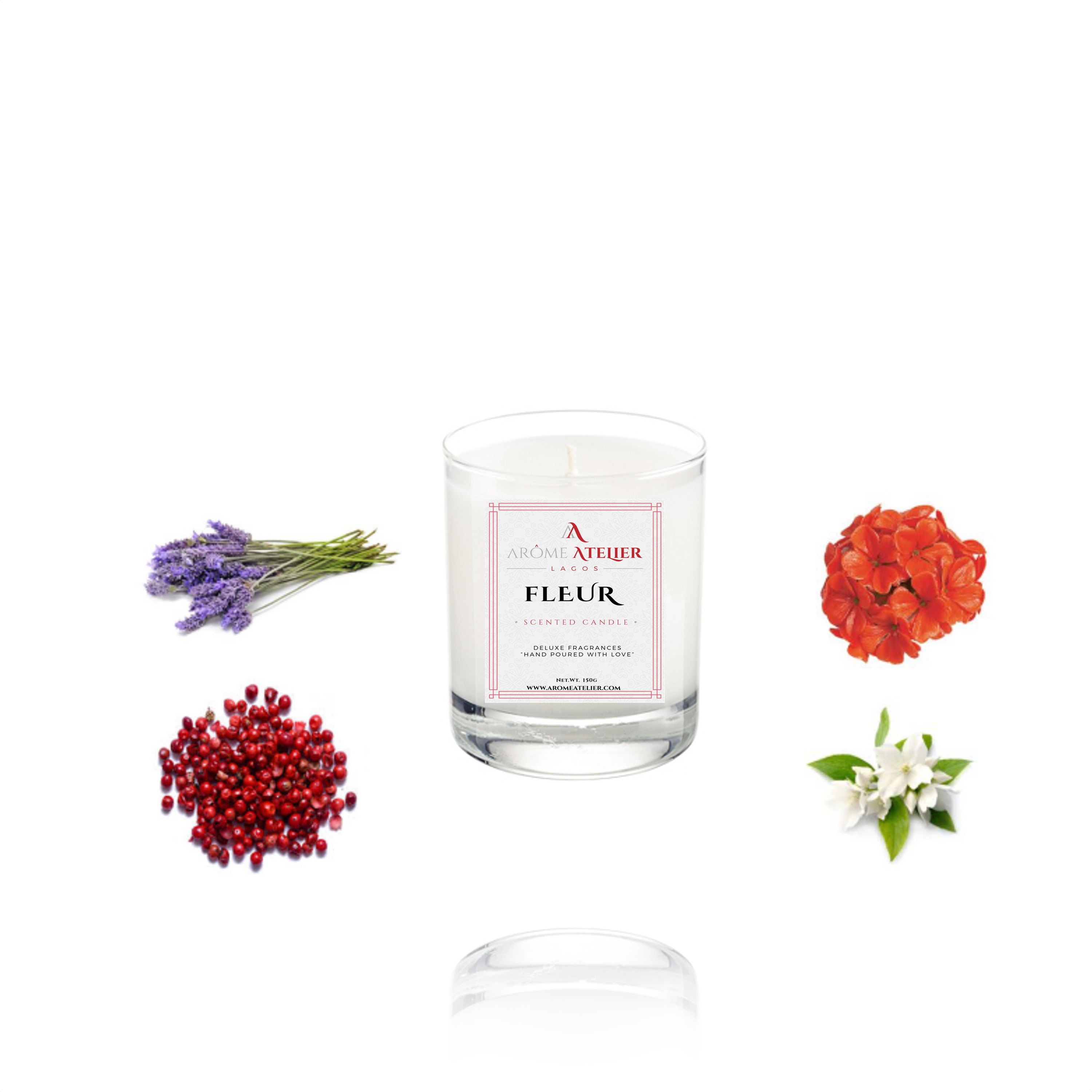 POMEGRANATE NOIR
Our best loved fragrance inspired by Jo Malone has Top Notes: Plum, Pomegranate, Rose; Heart Notes: Patchouli, Cedarwood, Violet Leaf, Spice
Base Notes: Musk, Amber, Vanilla, Leather
JOYEUX NÖEL
Here we have two special fragrances that have become a Festive favorite, One is a modern twist on Christmas with notes of Spiced macaroons smothered in chocolate powder making this scent almost good enough to eat.
The second is Perfectly spiced mulled wine with a touch of cinnamon and orange zest.
AMBRE NOIR
This Oriental & Woody fragrance has top notes of grapefruit, lemon and rum leading into a heart of black lily, rose and geranium with a twist of pomegranate backed with herbs and spices on a luxurious base of black amber, cedarwood, sandalwood and patchouli.
 VERBENA
This beautiful fresh fragrance is the essence of a warm summer rainshower. Top notes perfectly combining lemon verbena, orange, lemongrass and a fresh freesia accord melt into a floral symphony heart of pink peony, white flowers and ylang ylang combined with peach flesh. A hint of coffee and incense leave an indulgent base creating a very well balanced fragrance that is not too sharp.
WHISKEY
A vanilla and smokey chocolate whisky with a strong peat side.

CUBA
Aromatic vintage cologne notes lead into a heart of rich sweet tobacco, warm spices and a hint of cognac. Smokey woods of oak, ebony and incense combine with dark musks to complete this fragrance.